POOL TABLE FABRIC COLORS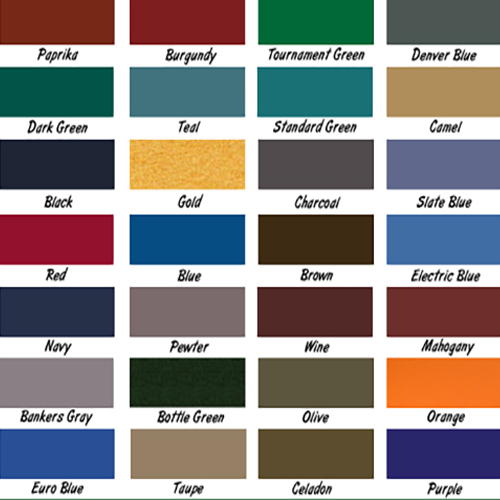 When you are in need of pool table re-felting, there is only one company to call, The Twin Cities Pool Table Guy LLC, in the St. Croix Valley of Wisconsin and The Twin City area of Minnesota.
We have over 20 years of experience applying thousands of felts with several colors and styles to choose from.
We can even provide custom felt for your pool table adapted from custom designs, patterns, or even a photograph.
Higher Grade (Faster) Felt is also available in Tournament and Teflon Grade. Allow 3-5 days delivery for felt colors not in stock. Please give us a call for any questions.
How To Measure Your Pool Table Fabric Size
Grab a tape measure and measure the width of your pool table from the tip of the bumper on one side to the tip of the bumper on the other side.

Your results should be one of the following:

39″ (7 ft table)

44″ (8 ft table)

46″ (8 ft professional table)

50″ (9 ft table)

Make sure you know the correct size of your pool table before requesting new felt, to allow our installers to quickly refelt your table.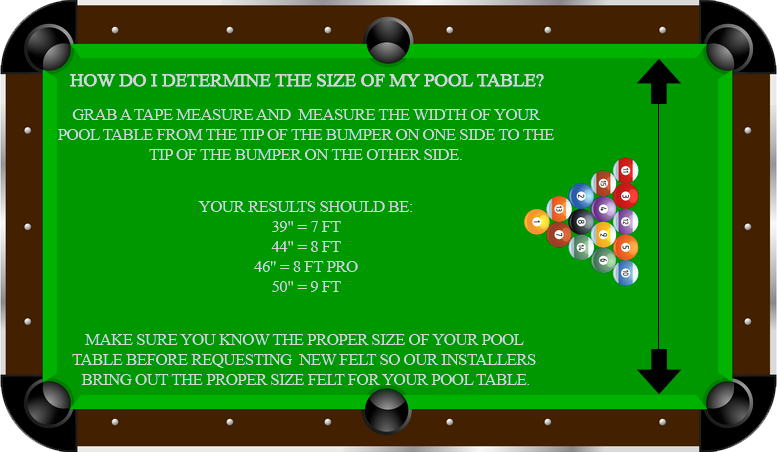 What is the difference in Pool Table Fabric?
Pool table cloth for standard American pool games is made from a combination of wool and nylon, or wool and polyester. It is the way the cloth is woven, the quality of the wool, and the manufacturing process that separates different brands and styles of cloth for a pool table.
Pool table cloth is generally referred to as either woolen or worsted cloth. These are two common types of wool yarn and both have specific characteristics that make them unique.
Common types
The most common type of pool table felt is woolen cloth. This is the "felt" than many people are familiar with. It is usually thick and heavy, comprised of at least 60% wool, and has that familiar "felt" feel when you touch it. It is considerably less expensive, and most commonly found on home pool tables and on coin-operated tables. Billiard balls will generally roll much slower on woolen cloth. Pilling, the shedding of the cloth into tiny little fuzzy bits, is common with this type of cloth, and therefore not allowed for use in any WPA sanctioned tournament. This type of cloth is usually recommended for casual play situations.
The second type of pool table cloth is made from worsted wool. This isn't "felt" at all, and feels more like a woven suit when you handle it. When you look closely, you can even see that actual weaves in the cloth. Worsted cloth is used primarily in professional tournaments, in pool rooms that host league and tournament play, and by people looking for a high quality billiards gaming experience. Worsted cloth is also referred to as speed cloth, since billiard balls will roll much faster on worsted cloth as compared to woolen cloth. Because of a shearing and milling process used to produce the optimum playing surface, there is an "upside" to many brands of worsted cloth. Worsted cloth generally doesn't "pill" like a woolen cloth will.
Worsted pool table cloth is generally made from the best quality combed wool found in the world.  Manufactured on highly specialized machinery built specifically to produce top quality billiards cloth. It is more expensive than its woolen counterpart but it delivers a much higher level of response for more consistent and accurate play.
If you are a serious league/tournament player or simply want a premium playing experience for your billiards game room, we recommend buying a worsted tournament speed cloth. For casual players,  select a woolen blend like Championship Invitational pool table felt.