Pool Table Relocation
Are you moving soon and need to make sure your pool table comes with you in the same shape it left? Perhaps you plan to buy a new pool table and need it relocated to your home or business. No matter what your pool table relocation needs are, we can move your pool table professionally and fast, without risking damage or dings to your pool table.
We provide professional breakdown of your pool table prior to moving, including rails, pockets, felt, slate, base and legs.
We will then load up your pool table safely and securely in one of our fully enclosed moving vans to be relocated anywhere you need.
Your table will then be installed with your current felt at the new location by our expert pool table installation technicians. Your Pool Table Relocation also includes complimentary pool table leveling services. We can also upgrade your pool table's felt, pockets, or bumpers for a small additional cost.
Some may think moving a pool table is as simple as taking off the legs are carrying it out the door. A pool table typically weights 600-900 lbs. Moving the table like this can damage crucial components of your pool table. We disassemble every single pool table we move, it is truly the only way to safely and securely move your pool table without incident.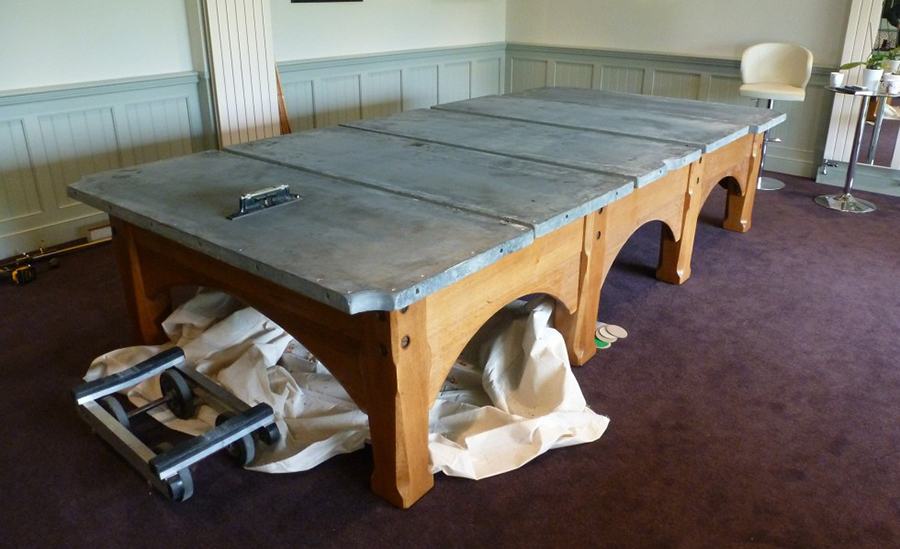 A typical pool table move goes something like this;
1. Arrive at the pickup location fully disassemble the rail section and blanket wrap them.
2. Carefully remove each section of slate to your pool table and load each piece into our cargo van.
3. Unbolt the legs from the frame and load the rest of your pool table.
When we arrive to the drop off location we will consult with you on the best location to properly install your pool table so that you have the best playability all around the table.
4. Assemble and level the frame of your pool table.
5. Install and level the slate of your pool table, we glue the seams of the slate in two sections then finish it off with a thin layer of bees wax to make a seamless effect across all three sections of slate.
6. We then stretch your existing cloth of the slate bed and install the rails back to the surface of the slate.
7. Once last level check and you are ready to shoot pool on your new pool table.
 Additional pool table moving services include Room to Room, Room to Storage, and Long Distance pool table relocation.