Pocket Replacement
Does Your table need new pockets? If so, you have come to the right place! We provide custom pool table pocket replacement and repair services as well as pool table pocket installation. Whether your pockets are old and dated or you just want a new look or style, we can replace or repair your pool table pockets to your satisfaction. It doesn't matter how careful you are with your pool table. At some point you're going to need to replace your pool table pockets. They get worn, they tear, they break, they get chewed up by rambunctious animals. Eventually there comes a time when you need to replace your pockets.
We have lots of different pool pockets for sale to fit most everyone's taste. Leather, rubber, plastic, you name it, we've got it. Our billiards pockets are a "universal fit", so they will work for most tables. Make sure you're checking your measurements though before purchasing.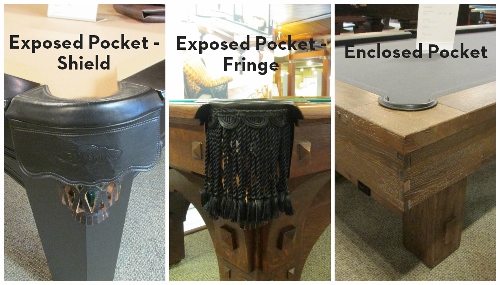 Pocket Styles Available
The pool table pockets shown are made of high quality leather, offered in black, mahogany, brown, or oak.
Plastic pool table pockets are also available.
Pool Table Pockets are sold as a set of 6, with 4 corner pockets, and 2 side pockets.